Case Study
The Problem
When people begin to explore the enneagram it can be really confusing. There are several books and websites with different tests but even after taking those or reading through descriptions of the types, it can be frustrating to figure out which type you are (people often mistype) and on top of that it's hard to find good information all in one place.
Right now, if you want to use the Enneagram to gain insight into why you or loved ones do the things they do or how to overcome certain weaknesses you know you struggle with, you'd have to jump through many hoops and possibly pay good money to do so. There isn't a good, one-stop-shop to figure out your enneagram type, learn what that means, how it affects your relationships, or coach you through a way to really get the most out of that knowledge-until now.
I wanted to simplify the process of finding a person's Enneagram type, figuring out possible mistypes, and navigating through all the information and coaching that's available.
Goals
– Understand and identify wants and needs revolving around the enneagram through user research.
– Create and validate potential design solutions.
– Make a simple, easy-to-use tool for using the Enneagram and make it pretty.

The Solution
I used a variety of research methods to define current and potential users, find the pain points from the introduction of the Enneagram to the typing process and to create a simple tool to help acquire quality information that is retainable and easy to comprehend.
My Role
For this project, I led all aspects of the product design. My responsibilities included primary & secondary research, user research & interviews, conception & ideation, designing user flows, visual design, prototyping, user testing, and incorporating user feedback into design iterations.
Research
After some initial research and interviews, I found my main user persona-Abby. She helped me to define user needs and desires when it came to absorbing information and using apps on a regular basis for self-growth.
Ideation
With a clear idea who I was designing for and what her pain points and desires were, I began an iterative design process to develop a meaningful solution, starting with some ideation exercises.
I wanted to figure out how I might organize or streamline the mass of information into a simple user flow that made sense.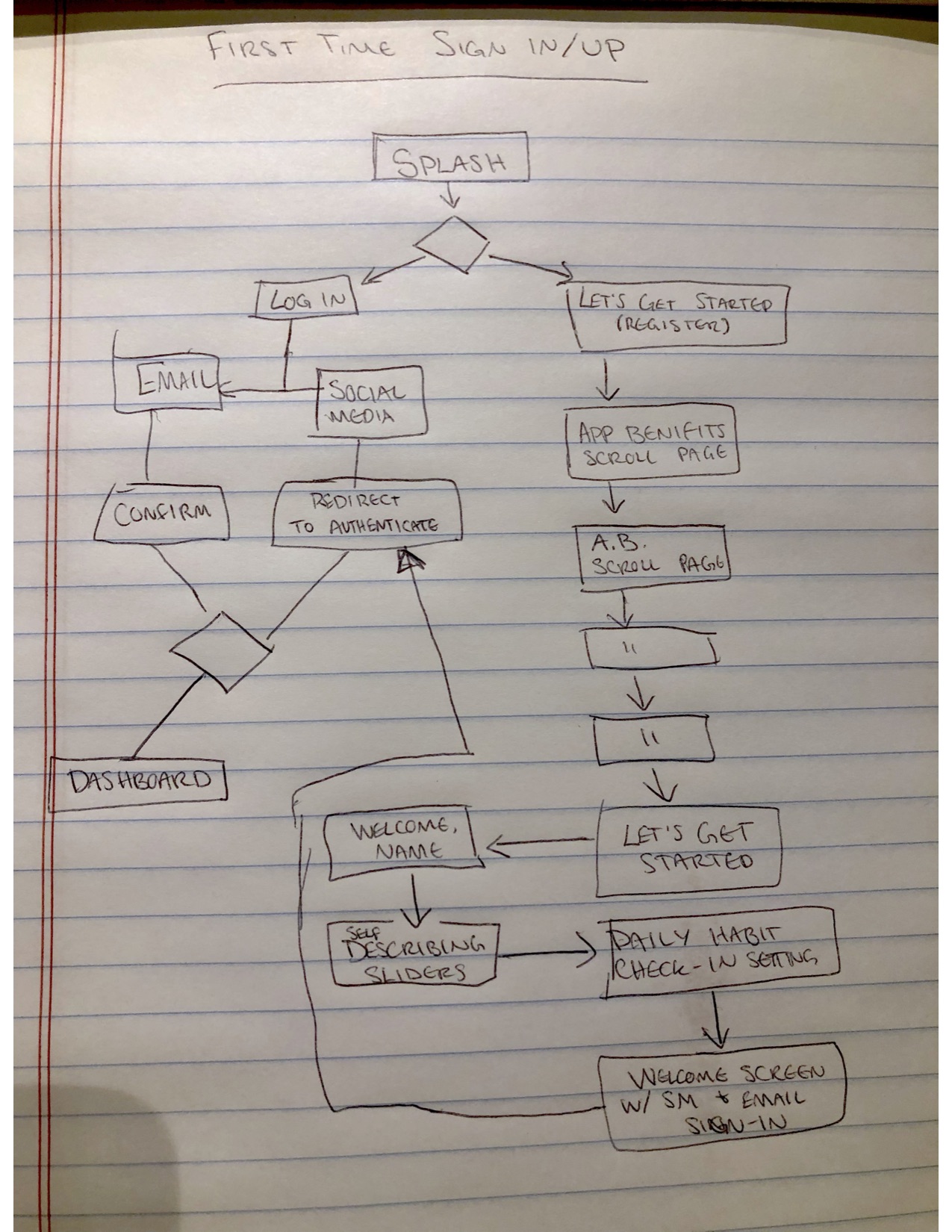 Design Process
Establishing an organized hierarchy was essential to beginning the design process.
Considering the target audience and app content, I created a look and feel that connected to young adults and was able to be used with and for the Enneagram content – enough colors for each of the 9 types, but not colors that would be noticeably overwhelming to the eye.
Hi-Fidelity Mockup
Once I had an established look and feel, user-flows, and wireframes done, I went straight into hi-fi mockups created in Sketch.
I put together a working prototype in InVision and went through 2 rounds of user testing to make sure the design met all my users' expectations and more. I took their feedback and prioritized what was most important; what elements were critical to user goals that I had missed? Then implemented new design solutions to meet those needs.
Conclusion
Through user research, I discovered that users had a lot of frustration when it came to using the Enneagram as a tool for self-growth. They also felt overwhelmed by the task of sorting through resources to get to valuable and digestible content.
My solution provides a way to easily find your Enneagram type, understand what that means and how to grow in every aspect of your life with this new understanding of yourself by providing a guided, bite-sized experience. It is simple, clean, easy to navigate, and can be used by those who are new to the Enneagram as well as those who already use it as a tool for personal self-growth or even professionally with counseling patients.
You can try out the prototype by clicking here!